Life as a placement student at Dynamic.
Now that this year's placement students are halfway through their time at Dynamic, it's the perfect time to reflect on the impact they've made in such a short space of time.
This year, we've had three placements in total, two junior creative developers and one junior creative media designer, so their presence has been felt across the business, and they've worked on some excellent elearning solutions.
Let's take a look at what they've been up to.
Junior Creative Developer.
"I'm thoroughly enjoying my time at Dynamic. I've enjoyed being part of the team, working on a variety of interesting projects, learning loads of new things, and getting hands on with all manner of software to broaden my skill set."
Junior Creative Media Designer.
"My time at Dynamic has been insightful, and I've learnt and experienced so much about the industry already, as well as advancing my knowledge and skills with a broad range of design tools for multiple pieces of software."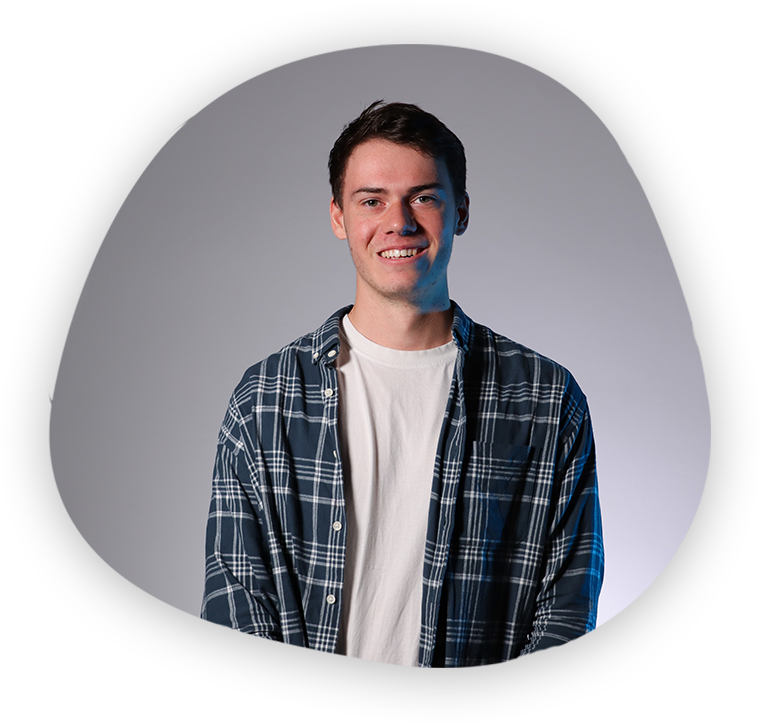 Junior Creative Developer.
"Working on various small and big scale projects for clients who require very distinct final results has provided a very diverse workplace where I'm always learning new skills. It's also great to work with such supportive people who are always happy to help and interested in the ideas I bring to the table."
I'm from Leeds and I study Creative Media Technology at Leeds Beckett University. I'm currently working as a junior creative developer for Dynamic.
I'm looking forward to learning and building on the skills I've already learnt for the rest of my placement.
I still have so much more to learn but, in particular, I can't wait to get hands on with more of the 'geeky' stuff.
What have you enjoyed the most?
I've especially enjoyed creating webpages using WordPress and the Elementor plugin.
The amount of options and controls it gives you really blew my mind! It's changed the way I look at developing web content. I've been that impressed with the software that I even took the time to explore it some more in my free time.
Can you think of one skill that you've developed?
I've definitely gotten better at thinking outside the box and improving my creativity. I initially struggled to think of new designs to bring content to life but being surrounded by a team of creative individuals has helped me to approach things differently.
I've now worked on numerous client projects with many different brands, colours and approaches, so being able to make content that's visually appealing and also consistent with that client's brand has been great.
What advice would you give to someone who's considering a placement?
The advice I would give to someone who's considering a placement is to 100% go for it! I've had the opportunity to explore what I enjoy doing. At Dynamic, you're not confined to the limits of your job description, but get to work on various other projects and skills that you want to gain experience in.
I've designed screens, built webpages, featured in film shoots, recorded audio, edited videos and even completed 3D work using Cinema 4d. I would say it's great for someone who enjoys being creative and wants to work out what they want to do in their career.
Aman recently developed two new modules. He took some nice designs and did an excellent job of bringing the modules to life.

The client was really impressed, and said she was in awe of the creativity and skill to turn a few PowerPoint slides into something so impactful and professional. He was efficient with the build and clearly did a marvellous job.
I grew up in Nottingham but moved to Leeds to study Creative Media Technology at Leeds Beckett University. I'm currently working as a junior creative media designer for Dynamic.
I'm looking forward to learning more in general by advancing my skill set and experience even further, which will broaden my overall knowledge and understanding of the industry.
What have you enjoyed the most?
I've enjoyed going on film shoots the most as it was something completely different that I'd not experienced before starting this placement. I've also enjoyed the editing process for green screen footage and then applying that to a motion graphic or illustrative environment.
Can you think of one skill that you've developed?
Most recently I've learnt how to rotoscope, which is a really useful tool to help in the process of keying out a subject. This is a skill which has benefitted me and my workflow when editing raw footage.
What advice would you give to someone who's considering a placement?
My advice would be if you're considering it, definitely do it. I think it's crazy how much I've learnt already, and I'm barely halfway through my placement. It's definitely going to put me in such a good position for when I return to university, just from the amount of experience gained and work ethic I've developed.
I've had the pleasure of collaborating with Humphrey on a few projects since he started his placement with Dynamic and have been very impressed. He's has been easy to work with, is quick to understand the brief and his quality of work is of a high standard. Humphrey's biggest piece of work for me has been the creation of a motion graphic video for one of the UK's largest care providers. After reviewing the first version of the motion graphic, I fed back my thoughts and made some suggestions for improvement. In the second version, Humphrey exceeded my expectations. Not only did he make the suggested updates, he took it to another level, producing something I knew the client would be very happy with.
I'm originally from Brazil and moved to the UK to study Digital Media at the University of Leeds. I'm currently doing my year in industry with Dynamic as a junior creative developer.
Considering how much I've improved as a creative developer, and the technical skills I've gained so far, I'm looking forward to seeing the skills I will further improve or gain by the time my placement ends. Additionally, it will be very rewarding to look back and see all the different projects I've been a part of and all the clients I had the pleasure to work for.
What have you enjoyed the most?
The variety of projects has been a highlight while working here. Different clients require different approaches to achieve what they need with Dynamic. Some have a more serious approach, which can be a challenge on how to still make it engaging for the user. Others have a creative approach, which allows us to experiment with filmmaking, virtual reality or even game development. This diverse level of projects means that I'm always learning new skills as a creative developer and thinking of creative solutions to achieve the best possible results.
Can you think of one skill that you've developed?
The projects I've worked on so far have required me to learn multiple different authoring tools – I've worked with Evolve, Rise, Gomo and Storyline. However, on top of all the technical skills I've gained, a skill that I've definitely developed is working with a client. Often, the final product you envisage contradicts that of the client. Working for a client means learning how to overlook your personal preferences and adhere to achieve, ultimately, the best possible version you can make of what your client desires.
What advice would you give to someone who's considering a placement?
I would definitely recommend every student who is considering a placement to do one. University is essential to get you academically knowledgeable and to give you that first step in professional-looking work – it's important to train your critical thinking and research skills. However, I believe that the experience and skills I've gained (and am yet to gain) this year alone are priceless and, overall, more importantly, for my professional future at university.
John has quickly settled into his development role and has worked on some really comprehensive projects. He is great to work with as he has a fabulous attitude and can extend ideas about how certain content or interactions might best be presented. He has a keen creative eye and a really flexible skill set, allowing him to work with confidence in all aspects of the material creation process.
Our placement opportunities
At Dynamic, we invest in our team and our placement scheme is a huge part of this. We've been running the scheme for over 15 years and many of our placement students still work at Dynamic today. It's our aim to showcase the amazing opportunities that a career in elearning can offer and encourage people that Dynamic is the right place to learn, develop and kickstart their career in a creative, digital workplace.
Want to find out more about the placement opportunities at Dynamic? Head over to our placement page for more information.
Please contact us if you would like more information about how our undergraduate placement scheme works, if you would like to recommend the perfect candidate or if you would like to apply.